A new article written by my friend and colleague JR Carril. JR is a civil engineer specialized in renewable energy. He helps me to keep this blog going as I can't find the time to write new articles.
Thank you JR!
---
For those who don´t know them, Nabrawind Technologies is a Spanish company based in Pamplona, dedicated to the design and development of advanced wind technologies for wind turbine components, as well as engineering services advisory.
They have appeared in previous post of this blog, such as:
and
In this post we talk about them once again because they have recently (Q1 2023) released a new product, Skylift.
It consists of an innovative installation system that allows for craneless installation and is compatible with any kind of standard wind turbine.
Basically, it looks like an adaptation of their previous product Nabralift, adapted to tubular towers.
For those that do not remember it the Nabralift is a self-erecting truss hybrid tower, with a tubular section at the top.
If I am not wrong this was the first project developed by the company.
According Nabrawind web site, the system is made up of two components: the Self-erecting System and the BladeRunner.
The Self-erecting System is capable of installing both the nacelle and the tower, even in extremely high wind conditions, with wind speeds of up to 15 m/s.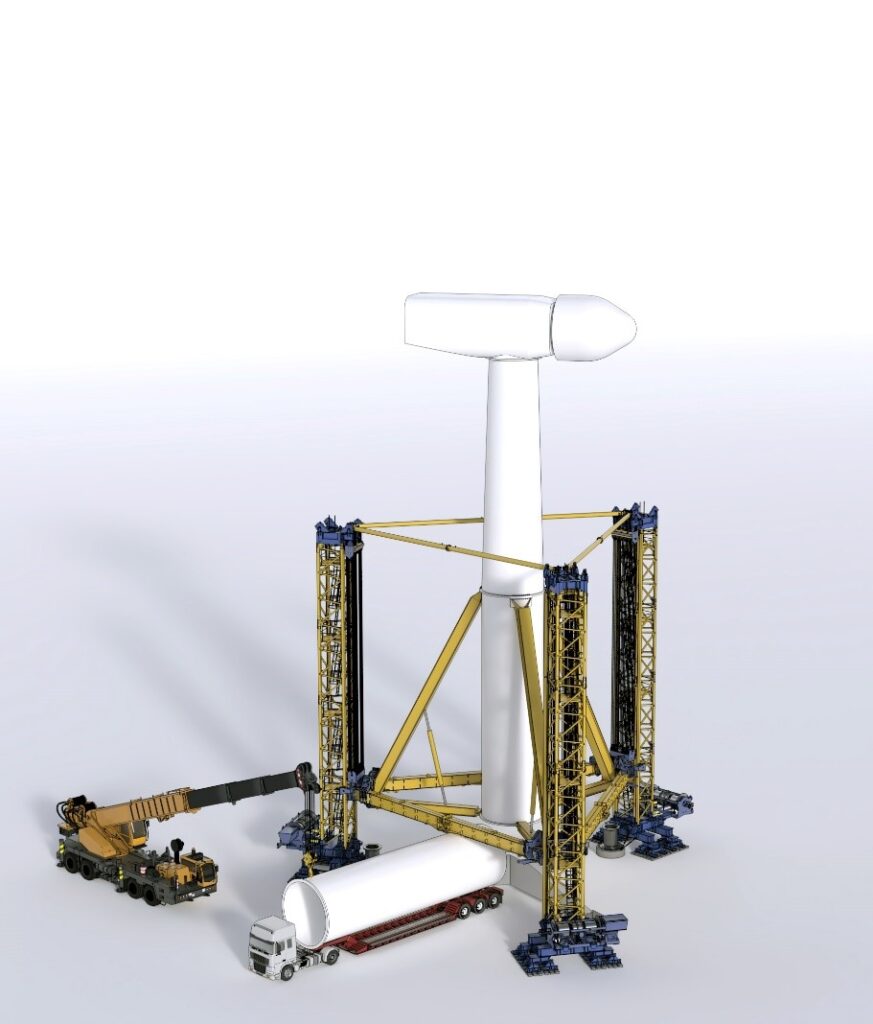 The installation of the rotor is handled by the BladeRunner, another of the products offered by the company.
The BladeRunner is a system designed for the maintenance and installation of wind turbine blades.
It consists of small pieces of equipment that are installed on the hub of the wind turbine, allowing for direct manipulation of the blade.
With the BladeRunner, the blade can be easily raised and lowered in a vertical position, without the need for any kind of crane.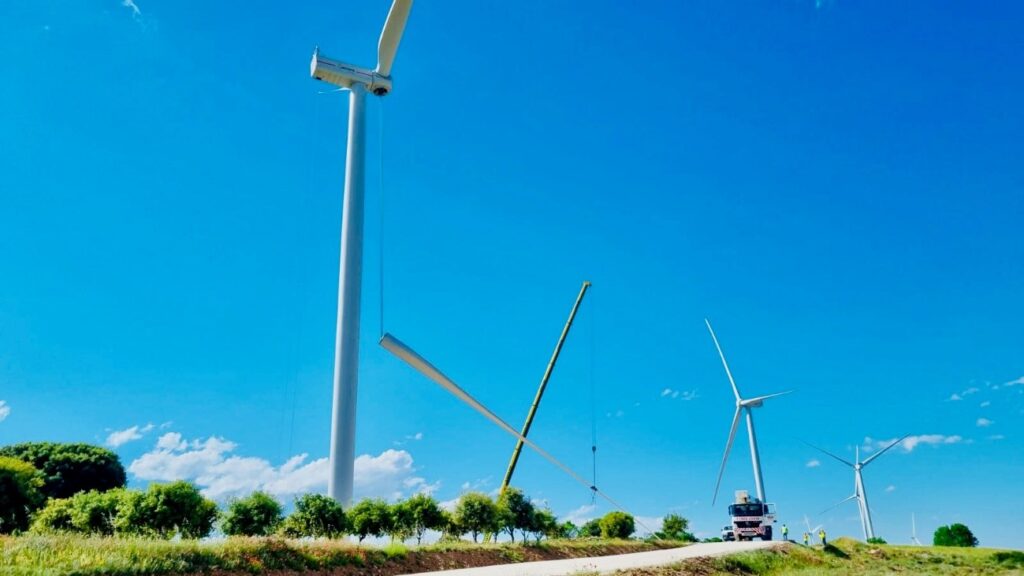 Also according the website, one of the main advantages of the Skylift system is its highly efficient installation rate, with the ability to completely install one turbine per week, even in adverse wind conditions.
The system is also compatible with the new wind turbine generation, including 6MW, 7MW, and 8MW turbines, and is capable of installing wind turbines over HH200 meters.
Nabrawind provides rates for the installation time, estimated savings and other infos in their website.
For me it is curious the element that they us as temporary structural support of the tower:
It looks like a concrete precast element that after the installation should be removed, but I did not find any additional information about this element of the temporary foundation for the lifting structure….
There is a video of the operation simulation on the following link, I hope you enjoy it!!