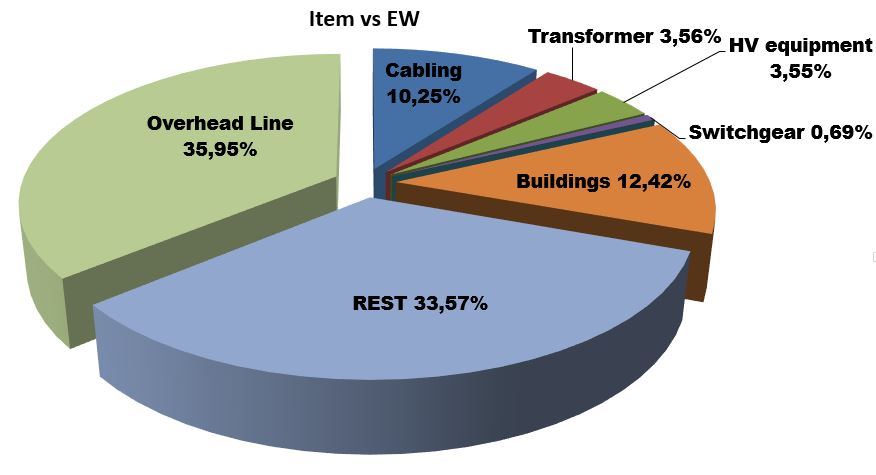 Due to my education as a Civil Engineer there I already wrote a substantial number of posts regarding cost of the civil BoP.
However I do not want to neglect the electrical side, which as you might already know is usually accountable for approximately 50% of the total cost  of the balance of plant of a wind farm.
I went through the cost of several projects I've worked at in the last 6 or 7 year together with a very good friend that I've left in Madrid to see if it was possible to find a recurring pattern in the numbers.
Unfortunately, the Electrical Works costs are much more fragmented than the Civil Works, where few "usual suspect" such as concrete, steel and earthworks dominate the scene and are the key cost drivers.
If you are working in the wind business you will be probably thinking  that the most expensive items will be the main transformer.
This is not always the case: in project where we had to quote a long overhead line, it absorbed up to 40% of the electrical budget, quite an impressive figure. Even shorter overhead lines could easily end in the 10% to 20% range, that in a multimillion project  is obviously a big number.
The second item competing with the transformer in the Top 3 is the medium voltage cabling system.
Obviously is extremely difficult to give a number because it will depend on the layout of the wind farm (will it be a row of WTGs or a "cloud" of scattered positions?). Nevertheless, numbers in the 3 to 4 million USD are not unusual even for medium size wind farms.
Then you have the transformer, the last of the Top 3 items. This is the easiest item to quote, usually somewhere around 1 million USD.
Last but not least we have "the rest". This include everything from the switchgears to the high voltage equipment to the capacitor banks, substation facility and other fancy equipment in the substations.
The impact of all this item can be huge, from 30% all the way up to 70%. Obviously, with such fragmentation it becomes clear that from the cost structure point of view Civil Works and Electrical Works are totally different.