After a long search I've finally found a direct correlation between CBR and gravel thickness for unpaved gravel roads.
I've discovered that often wind farms are built in areas with a low (<5%) to very low CBR.
Somehow empirically, we've started with a standard 20 cm layer of gravel. We've learned the hard way that often this is not enough.
I've also seen that several competitors in their EPC projects opt for a double layer subbase+base with values such as 20 +20 cm, or even 30+20. Even if it may look expensive, this solution is probably cheaper on the long run, above all in wind farms in rainy areas and poor drainage where the road can be easily washed away.
I've also commented in another post why I think that national norm methods such as AASHTO are not applicable for wind farms (basically, because traffic is very low).
Therefore, I've been searching for a direct relationship between CBR, axle load and gravel thickness and I've found this: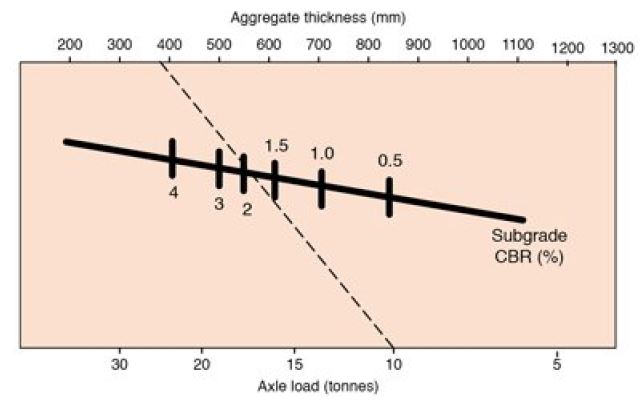 According to the nomogram for instance with an axle load of 10 Tonnes and a CBR of 2%, you would need about 35 cm.
If you are based in Europe, you will probably want to use a more common value of 12 Tonnes axle loads.
The picture has been taken from a document made by Terram (a geotextile producer).
Please note that I don't know the source, but the numbers that it generates appears reasonable.
You can download it here.