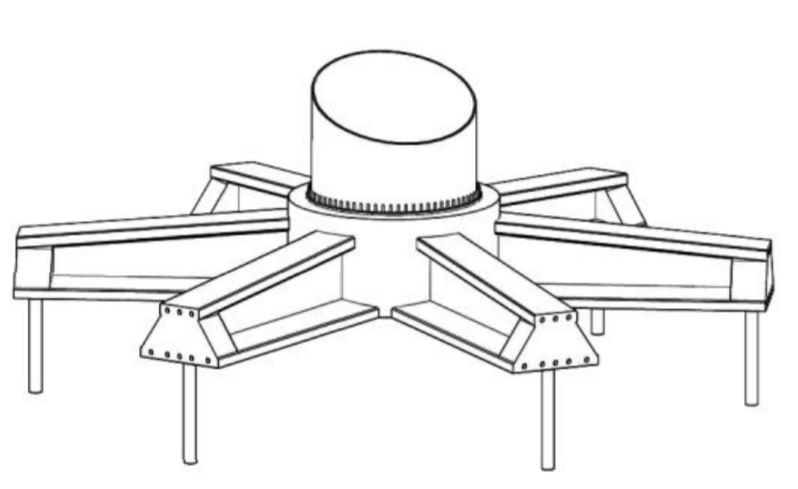 Some days ago I have been contacted by Doug Krause, founder of RUTE – a green start up proposing an interesting solution for the wind turbine foundation.
Taking inspiration from the technology used in bridge construction RUTE is proposing a system of post-tensioned beams connected to a central hub. Each beam has an anchor system connecting it to the soil, and the foundation is delivered to the wind farms in around 20 elements.
Among the benefit the fact that the system is modular, less prone to quality problems (it is manufactured in specialized plants) and, at least in principle, reusable after 20 to 30 years for a new foundation: the lifetime of the components is over 40 years.
Decommissioning is also probably easier with such structure, at least compared with a standard shallow foundation.
Installation times can be cut as well – as it is delivered hardened it is ready for installation in few days from the start of the works.
I had a look at the technical specifications and I have seen that the bottom of the excavation is at the same depth of the standard solution, so no savings here. I have also noticed that in some situation soil substitution could be needed.
I have seen in their website that there is already a full-scale prototype built, so it's much more than a concept. It has been installed at the Palmers Creek Wind Farm (Minnesota) on a 2.5 MW GE turbine with a 90 meter hub height.
Addenda (10 June 2019): I've received an email from the founder of the company. I post it here for the benefit of all readers.
Thank you Francesco for noticing RUTE.
That's a picture of our rock anchor, bulb T girder, model TG. The one we built in Minnesota is a box girder style, BX Foundation. It behaves just like an inverted T, spread foundation.
RUTE's biggest value to the BOP contractor is time. So most of the foundation works can happen off the project books and schedule. So a project can close finance and be erecting towers the same month. We'll hope to prove that claim this year.
Apart from the main BOP driver, the facility owner can run a pro forma out 30 years, or 40 years, the normal term of the land lease. And in those cases a foundation with bridge design, like ours, lasts well past 40 years. That's just a function of the post-tensioning which keeps the concrete in permanent compression. So there's an order of magnitude less fatigue damage than conventional reinforced concrete.
I can share some pictures from inside the foundation. You can walk around inside it and inspect.
Best Regards,
Doug, RUTE