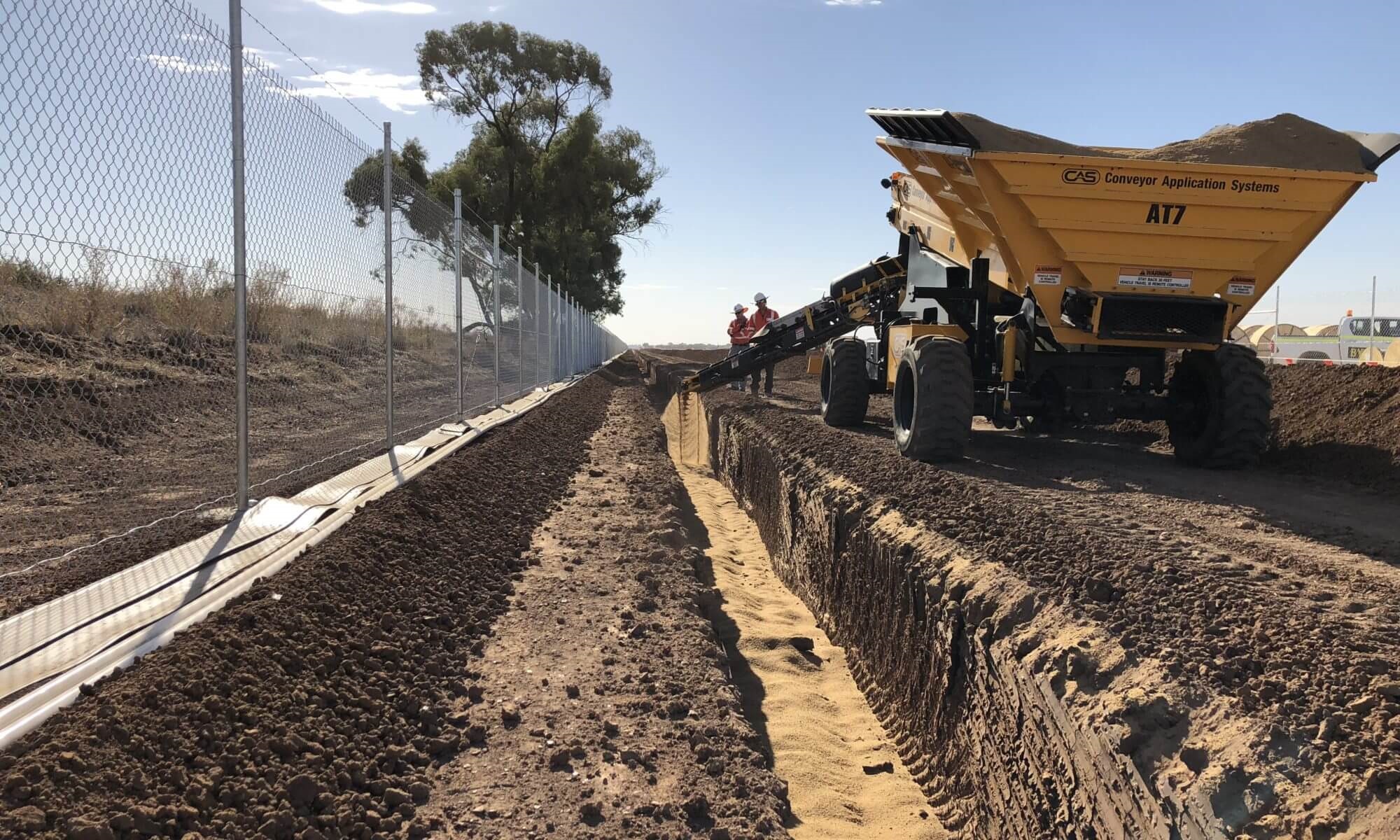 This morning I found by chance this very interesting website (well, it is interesting if you like wind farm constructions…).
Basically it is an Australian company using "rock slingers" (that is, conveyors belts connected to a dumper) to backfill trenches mounted on small vehicles (2.5 meters wide). The equipment is made by CAS, an American company specialized in this kind of equipment.
It is a remotely controlled machine that can create the sandbed inside the trench accurately and at a great speed. According to the figures provided in the website the slinger can create 16 Km of bedding in a day, using up to 1000 tonnes of material.
I guess that they call it "slinger" because it can throw material at a quite remarkable distance (over 40 meters). Used in combination with one or two trencher it looks like it can lead to relevant savings, less labor and a more homogeneous distribution of the material.
EDIT (18/12/2019):
I have received an email from Penelope Smith from Rockslinger on the topic. As I beleive it can be interesting for several readers I'm including it in the post below.
Hi Francesco,
We are involved in many civil projects involving backfilling trenches and 'Rockslinger' is our trademarked brand of high speed conveyor equipment in Australia. It's super to see the machinery becoming noticed in the renewable energy sector, such as the other operator you mentioned in your blog.
Our site is www.rockslinger.com.au and we are the largest slinger fleet operating in the country. This type of machine actually speeds up the process of installation at the trench and material spreading stage incredibly using this equipment.
It has a movable arm and is externally operated if needed with advanced drive ability. The application rate is a tonne a minute accurately laid at the contractor's required depth.
We have found that the renewable infrastructure sector in Australia, including wind farms and solar farms, are beginning to realise the saving in construction when using more efficient machinery. I've had a read through your blogs and really appreciate you sharing your experience.
Now I've found your site, I'll keep an eye out for the next blog. Thanks again.