Offshore is one of the fastest growing sectors in the renewable energy business in Europe. In 2010 more than 300 new turbines have been installed, reaching a total of more than 3000 MW connected to the grid.
The number is not huge, but the offshore agenda is quite busy: more than 20.000 MW are expected to be installed at the end of 2015. The majority of these projects will be in the UK, Germany and the Netherlands.
On a worldwide basis, Europe is accumulating more than 96% of all the installed capacity, with Great Britain as the biggest player right now, followed by Denmark and Netherlands.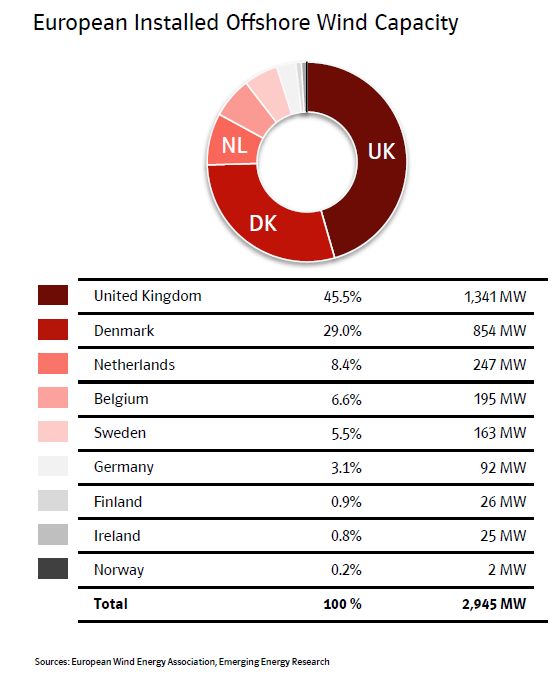 The interest for offshore development has several reasons: bigger wind potential (over 4.000 full load hours vs. 2.000 full load hours onshore), bigger wind turbines (>3MW, up to 7MW) and wind farms (from 50 to 1000 MW of installed capacity, while the average onshore wind farm is around 50 MW).
The drawback is the enormous investment needed: billions of euros, due to the rough marine conditions where everything is more expensive: wind turbines, cables, substation, and of course foundations.
Several foundation types are available for wind energy offshore towers:  gravity-type, monopile, jacket-pile, tripod and suction caissons.
The type of foundation used depends mainly on water depth and sea bed conditions: there is no "standard" concrete foundation as in the onshore wind farms. The solution used more often is the monopile.

Gravity foundations are used preferably in waters with a maximum depth around 30 meters, are made of precast concrete and are ballasted with sand, gravel or stones.
Monopile foundations are used in water with a maximum depth around 25 meters.
They are made of steel, and they are driven into the seabed for about 30 meters with a hammer (similar to the one used to build offshore platforms)
Tripod is used in deeper waters (up to 35 meters). It's made of different pieces welded together and it's fixed to the ground with three steel piles.
 Jacket if used in deep waters (more than 40 meters). It is made of steel beams welded together, weighting more than 500 tons.